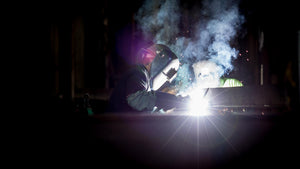 Getting Started with DIY Welding
Welding is a fantastic skill to have. In most countries, welders are in high demand, and they earn good money.
But that is not the only reason to learn to weld.
Welding is fun. Creating metal artwork is a great way to express your creativity. Once you have learned the basics, you can use your skills to carry out repairs. Even, make things for your home. Items like bed frames, barbecues, and wrought iron fencing that would otherwise cost you a lot of money.
Here is a quick overview of how to learn to weld, practice your skill and quickly reach the point where you can put what you have learned to practical use.
What is the best way to learn to weld?
There are many ways to learn to weld. You can:
      Use online welding videos

      Ask a friend to teach you

      Take a short welding course

      Learn from a book
Taking a course or asking a friend for lessons is the best way to learn to weld. This gets around the potential issue of having to buy equipment and materials to practice on. Plus, the person teaching you can physically guide your hands to ensure you learn the right technique.
Once you have learned the basics, YouTube is an excellent source of information. There are plenty of beginner welding how-to videos. As well as step-by-step instructions on how to carry out basic repairs, for example, this one shows you how to weld an exhaust pipe.
What equipment do I need to weld at home?
To be able to weld safely, at home, you need the following list of equipment:
      Welding machine

      Welding wire

      Welding table

      Welding magnets

      Vice grips

      Welding pliers

      Welding clamps

      Tool storage

      Soapstone, permanent markers, or a scribe

      Set square

      Angle grinder

      Hack saw

      Chipping hammer

      Wire brush

      Set of hand files designed for use on metal

      Welding helmet, jacket, and gloves

      Grinding visor

      Safety glasses

      Ear protectors

      Steel toe-capped boots, shoes, or trainers

      Fire extinguisher
What is the cheapest way to start welding at home?
Now, that is a long list. But don´t worry…
Leasing welding equipment is not expensive. It is also not hard to find and buy low-cost second-hand welding equipment. Most tool-sharing cooperatives also provide their members with the chance to borrow the tools needed for welding.
What should I weld as a beginner?
As a beginner, it is best to focus on items that only require you to tack weld or create straight-line welds. Examples include:
      Metal workbenches

      Storage boxes

      Shelving brackets

      Firepits

      Picture frames

      Curtain rails

      Basic bed frames

      Furniture legs

      Tables

      Certain styles of chair
All of the above are excellent projects for beginner welders.
Once you have a bit more experience you can easily take things to the next level. For inspiration, watch this 16-minute video. Make a note of any project that catches your eye. Then go online to look for a how-to video to learn how to make that item.
Don´t be daunted by learning to weld. With practice, the vast majority of people become good welders. All you really have to do is to follow the steps outlined above.
---