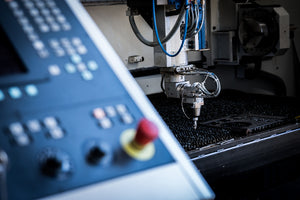 Having Custom Laser Cutting At KWS
The average person probably hasn't thought laser cutters can be of use when doing certain tasks like putting up shelves, replacing a car part, or doing simple woodwork/joinery.  Laser cutters are a lot more accessible than you might've originally thought. KWS have a bespoke laser cutting service and at KWS we believe no job is too small. Head over to our laser cutting page to see real-time quotes using your own schematics, or get in touch and we'll be happy to help you out.
Does KWS offer the latest technology?
At KWS we use the latest technology in our laser cutters, ensuring your work is clean, precise and with minimal chance of error. At KWS we can do much more than just cutting sheets from our professional laser cutters with perfect accuracy.
Laser cutters can be used to create new brackets for shelving units and can cut through just about any useful metal. We fire up our laser cutter for any size job whether it's a single piece or thousands. No job is too small for us. Laser cutting saves you time, it's much cheaper and more precise than woodworking. With our manual laser cutter, we can cut through just about any metal and even cut through some plastic.
Do I need to know a lot about laser cutting?
There's no need for any prior knowledge of laser cutting and you do not need to have any experience operating the machinery. KWS offers end to end service for all laser cutting from start to finish and we pride ourselves on our customer service and commitment to delivering the highest quality products and services.
We urge anyone who is interested in how laser cutting can aid them to get in touch with us via our contact page or our email address.
Can KWS Deliver?
KWS also delivers to your door, whether it's your home address or your business workshop. With our large range of laser cutting machines and our laser cutting schematics, we can create any design you want.
At KWS we understand that people may be too intimidated by the prospect of using a laser cutter even if they've decided a laser cutter would be useful for their job. KWS deliver throughout the UK, so whether you're in Brighton or Aberdeen we can get your items to you quickly and accurately.
Stainless and mild steel sheets are our most commonly cut materials. However, should you need a different material we'll be happy to provide a custom quote. 
Contact KWS today for more information on any of its services, such as our bespoke laser cutting service. We offer delivery throughout the UK. To learn more about our fast and affordable laser cutting services, contact KWS today!
Kellys Welding Services has been operating since 2015 and is a well known and regarded brand in the North of England.
---