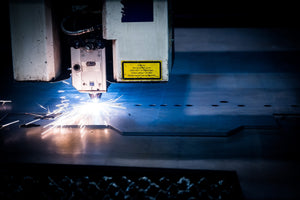 Why Every Home Needs a Laser Cutter
If you are looking for a new skill to learn, you really can´t beat laser cutting. It is fun, absorbing, relatively easy to learn and you will be amazed by what you can make with a home laser cutter.
Laser cutters are cheaper than you think
Before we dive in and explain why we think everyone should get involved, let´s start by tackling the elephant in the room… the cost.
In the past, laser cutting machines were expensive. Prices started at several thousand dollars.
Recently, the price of laser cutters has fallen drastically. In particular, the cost of machines that are designed for home users. Hobbyists who want to make gifts and items for their homes.
Entry-level hobby laser cutters cost from £120. These typically have low voltage lasers, which limits how fast they work and what can be cut with them. K40 laser cutters cost £230 and upwards. Their 40-watt lasers are far more powerful and durable.
Learning to laser cut will save you money
As you will see, the list of what you can make is only really limited by your imagination. Once you have a bit of experience you can save yourself a lot of money.
There is no longer any need to buy gifts for your friends. Just make them.
Need a decorative item for your home? – again, make it instead of buying it.
Have a broken item for which you can no longer buy parts? – make what you need to complete the repair.
It is easy to learn how to use a laser cutter
Learning how to use a laser cutter and get excellent results is not difficult. Most manufacturers provide comprehensive instructions, and it is easy to find how-to videos online. Once you have learned the basic principles you will be able to use virtually any machine.
There are also plenty of urban workshops and craft groups offering in-person classes. Some of them even allow you to bring your machine and materials along.
15 beginner laser cutting project ideas
The list of things you can make using a laser cutter is almost endless. All of the project ideas are beginner-friendly:
      Jigsaw puzzle

      Leather bookmark

      Wall hangings

      Engraved cup insulator

      Metal or wooden signs

      Engraved stone ornaments

      Simple wooden toys

      Etched glass

      Engrave glass or stone coasters

      Personalized keyrings

      Simple jewellery

      Wine rack

      Customized wooden pencil box

      Custom made leather belt

      Etched stone table mats
The above is just the tip of the iceberg. As laser cutting becomes more popular, makers from across the world are putting together how-to videos for an increasingly long list of beginner-friendly laser-cutting projects. You can access a great list of them via this article.
Overcoming the limitations of home laser cutting machines
With a bit of practice, you will soon become quite skilled and be able to make all sorts of items. However, as you would expect, home laser cutting machines have limitations.
But don´t let that worry you. That is where we come in. Kelly´s Welding offers a custom laser-cutting service.
We use industrial-grade machines, which means that we can easily tackle any jobs that you are unable to complete at home.
---